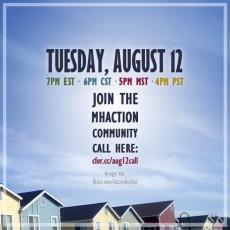 My name is Renaye Manley, and I'm excited to be joining manufactured homeowners from around the country in a learning call on August 12. I was invited by MHAction to talk about the importance of engaging pension funds to make corporations more accountable.  Register here to join the conversation: http://cfor.cc/aug12call
It was as a field organizer in Chicago that I got my start working on these important community issues – from promoting low-income housing, to tenant organizing, to work related to the Community Reinvestment Act. Over the last four years, I've worked at the Service Employees International Union, and one area I've become particularly passionate about is engaging pension funds through strategic campaigns.
Will you join me in a MHAction community call on August 12 at 7 pm Eastern Time? http://cfor.cc/aug12call
I'm impressed by the work of homeowners to take on the biggest corporate player in the manufactured housing world: Sam Zell's Equity LifeStyle Properties Inc. (ELS).  Opportunities exist for homeowners to directly engage with public pension funds, and these funds need to be made aware if companies are operating in a way that is has a detrimental impact on the long-term value of their holdings and our communities. The bottom line is to show that any negative impact on homeowners would potentially damage the investment being made by shareholders of those companies.
Please join me and MHAction on August 12 to talk about this and other new strategies for improving the economic and retirement security of manufactured homeowners.
Thank you,
Renaye