I want to thank MHAction Community Leaders, Jesse Martinez from Massachusetts, Richard Robinson from Utah, and Marsha Schumacher, a Grassroots Ambassador from Montana who is involved in the Center for Community Change's Retirement Security Program for making the trek to Williston, North Dakota.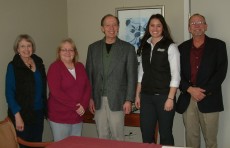 Here is what we were able to accomplish:
Trained local community leaders on a vast array of social and economic justice issues so we can better understand the forces at play that are affecting our lives.
Put together local plans and commitments around the development of local Home Owners Associations in order to increase communication among homeowners and build our power.
Met with the Mayor of Williston and City Council Members and County level elected officials on important policy protections that can be put in place to protect our families from unscrupulous community owners and protect the availability of affordable housing in the Williston area.
Click here to check out our pictures of the cross train and remember to 'Like' MHAction on Facebook.
My final reflection is that I didn't know what to expect when I originally got involved with MHAction.   What I have found is that what Williston is going through isn't any different from what many are going through, and that it's on us to organize to make our world a better place for all.   The most important thing I have found through MHAction is information, leadership and friendship.
Onward and upward…
Barbara Vondell, MHAction Community Leader
PS: Were you forwarded this email from a friend? Click here to subscribe for action alerts or here to like us on Facebook.