Below is a statement from MHAction on the Shootings at Mother Emanuel African Methodist Episcopal Church in Charleston, South Carolina: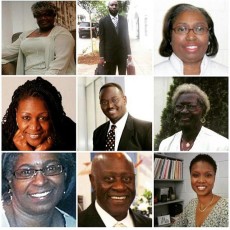 Our thoughts and prayers go out to the families and friends who lost loved ones in last week's horrific shooting at the Mother Emanuel AME Church in Charleston, South Carolina. Although none of us knew the nine people that lost their lives, it is important for us to name and always remember them: Reverend Clementa Pinckney, Daniel L. Simmons, Ethel Lee Lance, Myra Thompson, Reverend Depayne Middleton Doctor, Sharonda Coleman-Singleton, Tywanza Sanders, Suzie Jackson and Cythia Hurd. May they rest in peace.
We remember the victims as we look back to the  November 2014 Leadership Retreat in Orlando, Florida when 32 community leaders from manufactured home communities from 9 states came together and held conversations regarding the core values that will be central to the work of MHAction moving forward. We came to an agreement that MHAction's values rested firmly in 'compassion for our neighbors and love of our communities.'
We stand at the ready to use those core values as community leaders and take on systems of oppression that affects the lives of our families and our communities. We know first-hand that oppression takes many forms, and it is our duty as community leaders to engage in deep conversations and joint action that leads to a more just and equitable world. MHAction's goal is to shine a light on large corporate manufactured housing community owners extracting outrageous rents from our families, on elected officials using myths and scare tactics to promote cuts to vital public programs like Social Security and on those responsible for propagating hate crimes and racially motivated killings.
Those that lost their lives last week were moms and dads, workers, uncles, brothers, aunts, sisters, children, grandparents, teachers and friends….we owe it to them and to our communities to never forget them and continue to fight on for a more just and equitable world.
Sincerely,
MHAction Core Team
Manufactured Housing Action (MHAction) is a special project of the Center for Community Change. MHActionis a growing national movement of manufactured home owners who engage in public policy issues that address their interests and concerns as homeowners on the local and state levels, as well as larger issues of retirement and economic security on the national level. MHAction is led by a core team of community leaders that live and reside in manufactured home communities.  To follow along on Facebook, please 'Like' us at: https://www.facebook.com/MHaction