Georgia Buckley and her husband William live in Salt Lake City, Utah. Several years ago, William had four strokes and a serious head injury, which turned their lives upside-down. The strokes affected everything about him, from his speech to his personality to his mental well-being.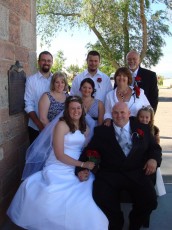 "Basically, he had to get his life on track, and he almost had to grow up all over again," Georgia said. Georgia said it was difficult dealing with all of the effects of her husband's injury, but that she learned a lot. "I had to have a lot of patience, a lot of understanding," she said.
William's illness affected her family financially as well. When he got sick, he had to quit his job. Georgia had to get a part-time job, but even then, they couldn't make their house payments and Georgia and William lost their home.
"We were lucky to even keep food on the table," Georgia said. With Georgia's help, William slowly recovered and was able to work again. They moved to a new city so he could take a job as the chief engineer of an apartment complex, but just a year later, his mother started to fall ill.
Georgia traveled 60 miles to and from her mother-in-law's home several days a week to take her to doctor's appointments, buy her groceries and cook her meals. As her health continued to degenerate, she became bed-ridden and relied on Georgia completely to feed and bathe her and help her to the restroom.
When William's mother passed away, Georgia and William asked William's father to come live with them. He was also in poor health and relied heavily on his son and daughter-in-law for day-to-day help. From helping him bathe and eat, to making sure he took his medicine, to changing his diapers and physically picking him up off the floor when he fell, Georgia became his full-time caregiver.
"It was a tough situation," Georgia said, "especially because other members of the family didn't know what to do or didn't want to help. My husband looked at me and said, 'We've got to do this.' And we just did it because that's the way we are."
Georgia and William made their own sacrifices to become caregivers. William quit his job so that he could stay home with Georgia to help. Georgia was attending school for event-planning and interior design, but had to quit to become a caregiver.
Georgia admitted that she felt resentment toward other family members for not stepping up. "I was angry. I was angry with the rest of the family. But I'm glad that I was able to do that for my husband. I was able to step in, take charge and do what was needed to be done for him and for them."
Georgia says if there were a Caregiver Credit, she would absolutely apply for it. Georgia and her family have sacrificed a great deal of time, energy and income in order to act as caregivers. "Caregiving is one of the toughest jobs I've ever had. It's physical; it's mental; it's very emotional. It makes you a different person than what you are or who you ever thought you would be."
Though both of her husband's parents are now deceased, Georgia has not stopped taking care of others. She has begun helping her elderly neighbors across the street by taking them to doctor's appointments, doing their grocery shopping and helping them around the house. "I'm there when they need me," said Georgia. "I go over to help them probably four or five days a week."